The Power of Letting Go
That moment! That moment when I knew life could be different.
Empowered living has a lot to do with letting go. Earlier this year I went to Costa Rica and spent eight amazing days exploring the beautiful land with seven other amazing women. It was such a sacred trip, filled with emotion, connection, laughter, and tears for me.
It was the first time I had ever traveled alone, and I was to spend time with women that I had never met before. I was entirely out of my comfort zone, but I wanted to start saying YES to life, rather than always sticking to what was 'safe' for me. Change has always been hard for me and having a routine of sorts always made me feel as though I could control my environment, keeping me out of harm's way. I also didn't enjoy the unknown so booking this trip was really out of character for me. Most were surprised when I told them about my planned trip, and all were happy for me.
I could honestly write so many posts about this trip. It was breathtaking and amazing, some moments beyond words. I will never forget gazing up at the stars from the middle of the jungle. It was so dark that I couldn't see my hand in front of my face, yet the stars shone so brightly- It was one of the most breathtaking moments of my whole life.
One of our day trips took us to the natural hot springs to explore more of the magical mystery the land in Costa Rica offers. At one point a few of us went down to explore the river that was beneath the hot springs. Upon stepping into the water, I felt how slippery the smooth rocks were as algae covered their surfaces.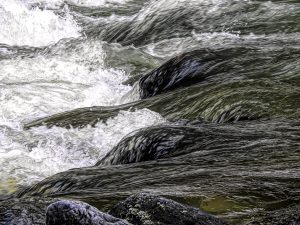 My mind instantly went to a vision of my slipping, cracking my head open, breaking my wrist or worse! I had a moment of feeling paralyzed with fear as this vision gripped onto me. But there was this longing to move forward, to take another step, to travel further into the river and experience whatever was there for me. So, I started to do just that. I made little steps, watched where I was walking… I should add, at one point I was crawling because it was near impossible to walk, until we reached a point where we could let the water carry us downstream for a mini-float. I was still unsure because I'm not the strongest swimmer and I have a huge fear of drowning. But as I watched the other women I saw something that I longed for… whatever 'that' was, I wanted it! So, I said 'f*ck it' and took my place at the rapids, I laid back, and I let the water carry me. Even as I write this, tears come to my eyes as I recall the sense of freedom that washed over me. It was as though the river was washing away the safety-making ways that ruled my life. It was as though I could breathe again! I had never felt so light inside, as though the weight of the world had lifted and I could experience a joy that longed to be felt. And I laughed! I laughed so much, and it felt amazing.
At one point we let the rapids carry us further downstream not knowing if the rocks underneath were going to catch us, if the side of the river was too jagged, and not knowing exactly where we would end up. This experience opened my eyes to a whole new world. To some, frolicking around in a river and floating in the rapids might not seem like a big deal, but to me it was everything! In those first few moments of stepping into the river, I could have let fear take over and I could sit on the sidelines and watch while others enjoyed themselves (this has been my life!) or I could let go of the fear, say yes to life and lean into trust. I wanted to feel something different than the strong stifling grip of fear around me.
Freedom. That is what I experienced that day. And I have been cultivating that feeling since.
Also- remember that vision I had- where I would fall and injure myself? I actually did fall. I completely bailed on one of the slippery rocks. I'm pretty sure it was the least elegant moment of my life, and I didn't even care nor did I hurt myself at all! Who knew 😉
Calgary Canada Life Coach Arianne Moore, Life Coaching for Women helps clients worldwide